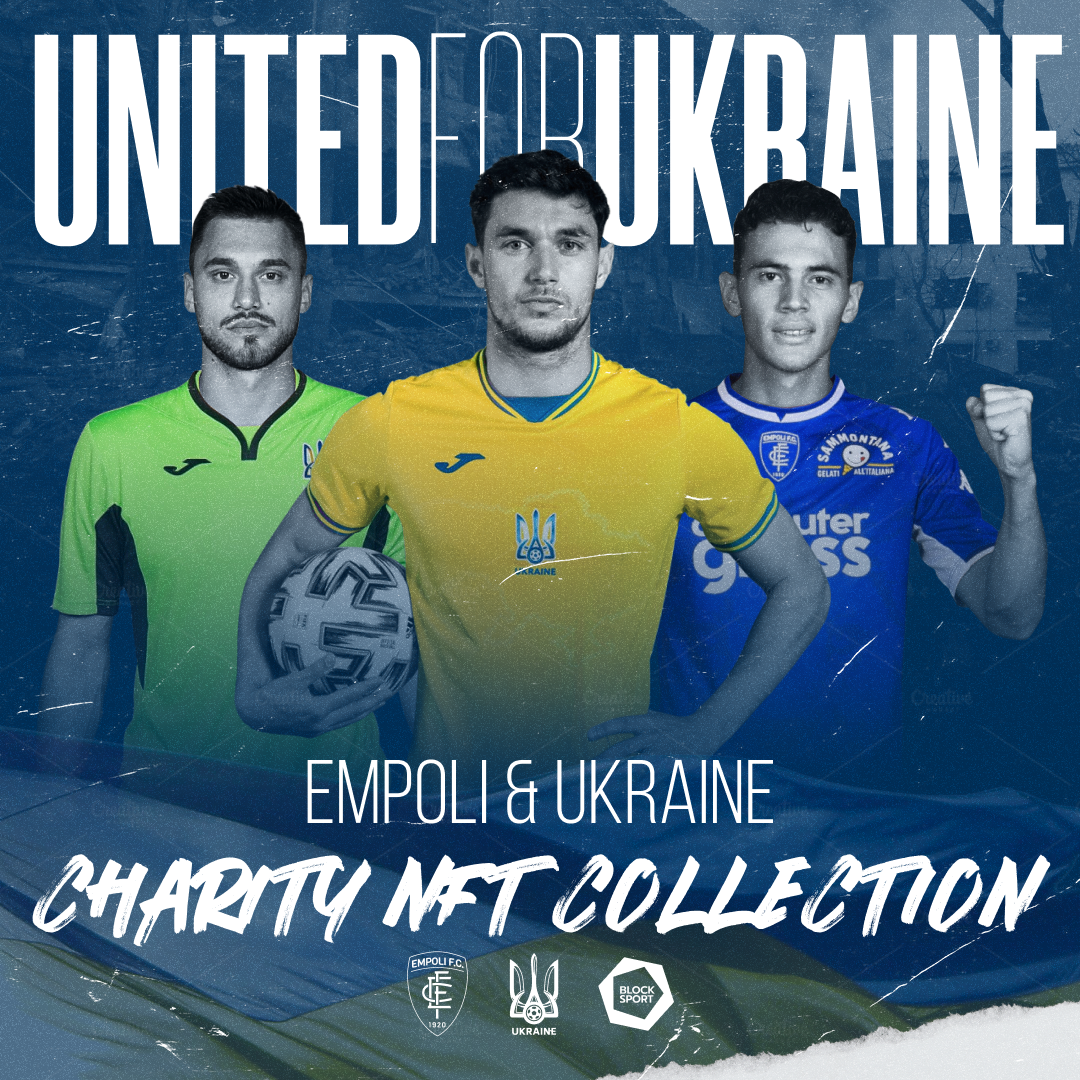 On Tuesday, 17th of May 2022, Ukraine will play a friendly solidarity match against the Seria A team Empoli, one of Blocksport's latest partners who joined the Blocksport eco-system. Having spent the last few months working very closely with UAF (The Ukrainian Association of Football), a rather perfect opportunity emerged in relation to a football match, which also presented an opportunity to get across a great message to say no to war. This match will now also release a collection of very special and unique NFTs which will help the Ukrainian Federation raise further funds which will be donated to Ukraine United24, a platform launched by the President of Ukraine Volodymyr Zelenskyy as the main headquarters for the collection of charitable donations in support of Ukraine.
To purchase a special NFT from the Ukraine-Empoli collection you need to connect your MetaMask wallet to Blocksport Platform app.blocksport.io and then you can place a bid for the NFT you like. The collection will include 10 NFTs. The starting price will be 0.2 BNB and it will be available for purchase from the 18th of May at 15:00 CET. Furthermore, by purchasing NFT at the Blocksport platform you can earn passive income participating in NFT staking pools.
Ukraine is holding a retreat in Slovenia with the players taking part in the Ukrainian league in preparation for the June playoff for the Qatar 2022 World Cup and will play some friendlies before the official matches.
Aurelio Andreazzoli's Empoli will face the Ukrainian national team in a friendly match, led by Oleksandr Petrakov, who are preparing for the world play-offs in June (in Glasgow against Scotland and then, if they beat the Highlanders, in Cardiff against Wales). An evening of football, but also of friendship and solidarity will take place today, at 20.30 at the Carlo Castellani stadium in Empoli.
Vladimir Liulka, CEO OF BLOCKSPORT said: "This project goes way beyond your usual commercial business deal; it promotes the solidarity between some of Europe's top football clubs and the national team of Ukraine with a simple message of peace, not war. We are honored and privileged to be able to make a small impact when it comes down to the launch of unique NFTs which will help raise funds for the Ukraine United24 platform. We hope this will be the beginning of a long-term relationship between Blocksport and UAF and we are very thankful to Oleg and Roman for making it happen and having it agreed by the UAF Board. Blocksport's full ecosystem Empoli has fully embraced will be put to use and for the good cause in tomorrow's match and we are thrilled about it and are looking forward to making it all happen.'
Rebecca Corsi, Vice President of Empoli: "We are very happy to join forces with the Ukrainian national team and our technology partner Blocksport on this project. The launch of NFT regarding this friendly match represents a unique opportunity to convey a strong positive message of peace, as the CEO of Blocksport said this initiative will help raise additional funds. Sports like art and music have transformative powers and it is a real privilege to be able to make a difference in this way ".
Yuri Zapisotsky, General Secretary of UAF, said:  'Ukrainian  Association of Football is interested in development and implementation of modern technologies and NFT is the one we consider as perspective one. When we received a proposition from Blocksport to join this project we accepted it. Especially, because it is not only about modern digital technologies but for providing additional funds to the charity initiative to support Ukraine.
We see great potential in it as we know that there is a big power of football fans all over the world to unite and stand for one team and the name of this team now is Ukraine!'
With Ukraine winning the Eurovision Song Contest this weekend with Ukraine's folk-rap group Kalush Orchestra in Turin, which marked the first major cultural event in which Ukrainians since the February invasion, this match in Italy is very well timed to carry the sentiment of the justice forward.