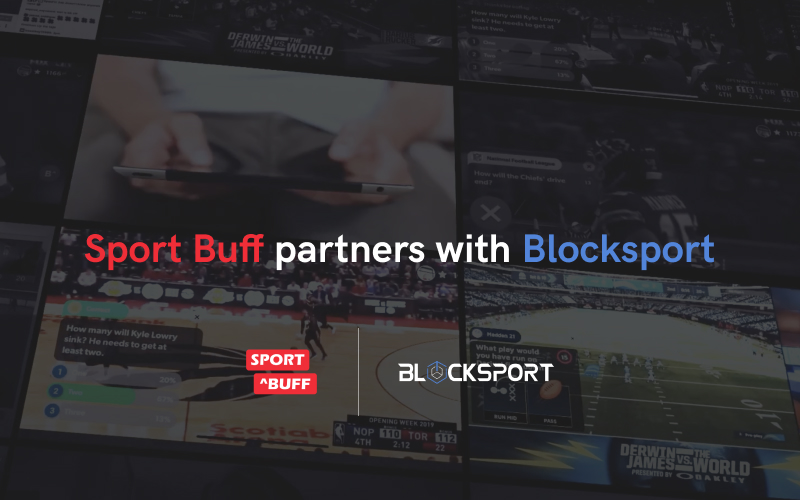 LONDON / ZUG – Sport Buff, the company leading next-generation fan engagement and gamification for sports broadcast and media applications, today announced a multi-season partnership with Blocksport, the builder of the world's largest Sports NFT aggregation system. The two ventures will work together to deliver NFTs to Sport Buff's interactive overlay, offering a unique experience for users to access the NFT world directly over the top of sports content.
Sport Buff's unique video overlay delivers fully interactive and engaging gamification, delivering real-time engagement in the form of predictions, polls, trivia, ratings, and much more, letting fans play with and against their friends. Their next-generation technology aligns perfectly with the NFT market. NFTs are digital assets that can be traded on a marketplace. They offer sports teams, personalities and leagues to monetise their own profile and offer fans a unique way of interacting with their idols.
Benn Achilleas, Founder & CEO of Sport Buff said: "Sport Buff is always at the forefront of audience participation and innovation. Combining our gamification platform with Blocksport is a perfect way for fans to compete for NFTs and build their collection game after game, race after race, throughout the season"
Vladimir Liulka, Co-founder CEO at Blocksport, said: "Blocksport empowers sports partners to form deeper connections with their communities and fans through digital collectibles. We're excited about our partnership with Sport Buff as an entirely new way to bring NFT collectibles to leading sports brands and their fans".
Sport Buff is expanding rapidly as broadcasters, federations, sponsors, and esports platforms look to utilize the innovative platform to engage with and monetize the exponential growth in digital viewing with younger audiences.
About Sport Buff
Sport Buff are world leaders in next-generation sports fan engagement and gamification. Used by top-tier partners, including FIFA, Dreamhack / ESL, Formula E, and Major League Soccer, Sport Buff delivers real-time fan engagement (from AI sports data analysis and procurators) over the top of sports and esports video and action – live, archive, highlights, social – on every partner platform, broadcast or tournament. With Sport Buff's interactive overlay, every single genre of broadcast becomes an interactive experience, revenue generator and data capture engine.
Get more info and a demo at http://sportbuff.com
FOR MORE INFORMATION pr@sportbuff.com
Jonty Whitehead, President and Founder. linkedin.com/in/jonty-whitehead-9aa70621
Benn Achilleas, CEO and Founder, https://www.linkedin.com/in/bennachilleas/