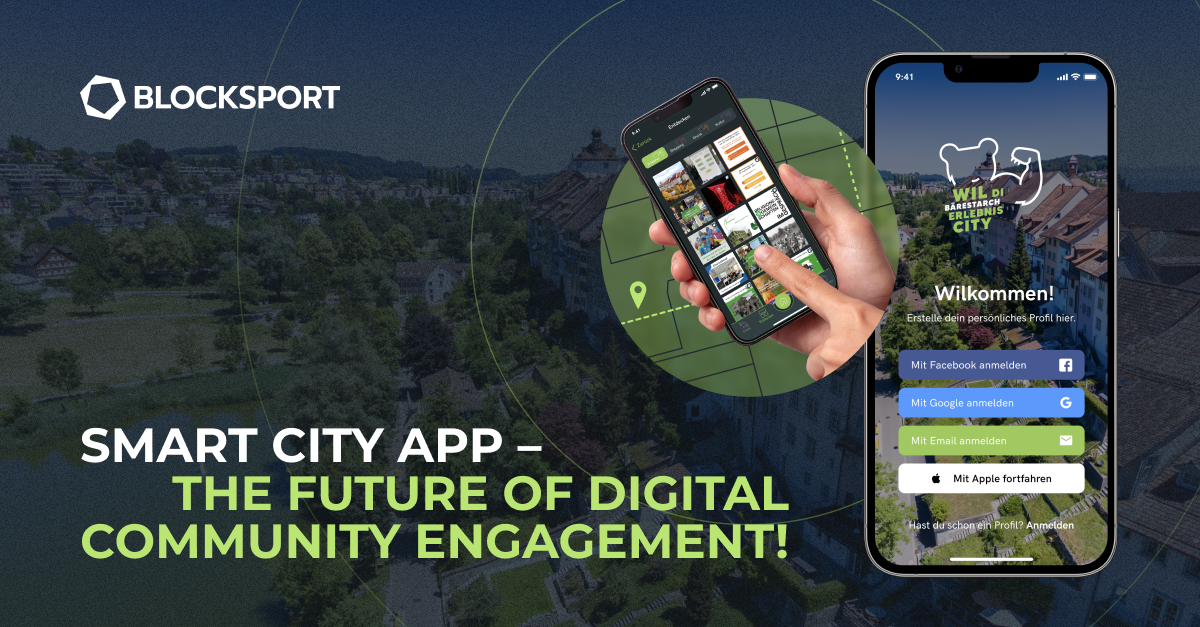 In 2021, Blocksport and Wil City presented the concept and further an MVP version of the e-City Wil digital platform, which is set to revolutionize the way how people interact with their cities. The app was designed to engage citizens and visitors to Wil in a new way and provide them with important information about events, museums, restaurants, and other interesting places in the city. It also allows people to discuss and communicate with each other digitally, as well as provide promotional offerings from local businesses.

Blocksport is a Swiss company based in Zug Crypto Valley which specializes in providing solutions for the professional sports, media and entertainment industry and its communties. They have worked with many different sports clubs, leagues, and federations but managed to apply their fan app solution to a smart city project together with its local partner AMMARKT and the Wil administration.

The results of launching the e-City Wil app were impressive, with 10% of city dwellers using it on their smartphones. This success has spurred Blocksport to move forward with developing the app further and adding new features.

The new features on Blocksport's roadmap for the cities include a "visit to earn" concept, where users can earn rewards for visiting museums, specific touristic routes through the city, and shops. The app and platform will also include a "learn-to-earn" concept, where users can learn about the city or Switzerland in general and earn rewards for doing so.

Another exciting addition is the usage of NFTs as vouchers or tickets, which can be used as a memory of the tourist stay or something that the user can resell. The app will also feature an eID and wallet for KYC/registration of users, as well as integrating sustainable public transportation and an events calendar to foster social life.

Additionally, the app will gather general and behavioral data on tourists, which will provide valuable insights for city planners and businesses.

These features will be available for all cities in the concept of a smart city app, and Blocksport is inviting all Swiss cities and towns to explore the new way of engaging their communities and guests. The app will provide new opportunities for cities to be modern and digital, engaging even the youngest generation of dwellers.

The e-City Wil app is an exciting development in the realm of smart cities and represents a significant step forward in digital community engagement. It is clear that this app has the potential to change the way people interact with their cities, providing new opportunities for engagement and creating a more connected community. We look forward to seeing how this app develops and how it will shape the future of smart cities.
Remo Bügler, Project manager of the eCity Wil app and Digital Director of AMMARKT AG:
"As the Project Manager of the e-City Wil project and Digital Director at AMMARKT AG, I lead the development of a platform that revolutionizes urban life. Collaborating with Blocksport allows us to combine our competencies and develop a market-oriented product that meets the needs of the city and the expectations of users. Future features such as city cards and stamp cards, along with the idea of a "Visit to Earn" model, demonstrate the limitless potential of the platform. I am convinced that our partnership with Blocksport will sustainably change how people interact with their city and promote a more connected and engaged community."
Vladimir Liulka, CEO of Blocksport, said:
"The e-City Wil app represents a significant milestone in our mission to create smart solutions for the sports, media, and entertainment industry and its communities. The success of this app has shown us the potential for using technology to engage communities and create a more connected society. We are excited to continue developing the app and adding new features, such as the 'visit to earn' and 'learn-to-earn' concepts, as well as the use of NFTs as vouchers and tickets. We believe that the e-City Wil app will set a new standard for smart city apps and we invite all Swiss cities and towns to explore this new way of engaging their communities and guests."
Explore more at https://wil.e-city.app/.