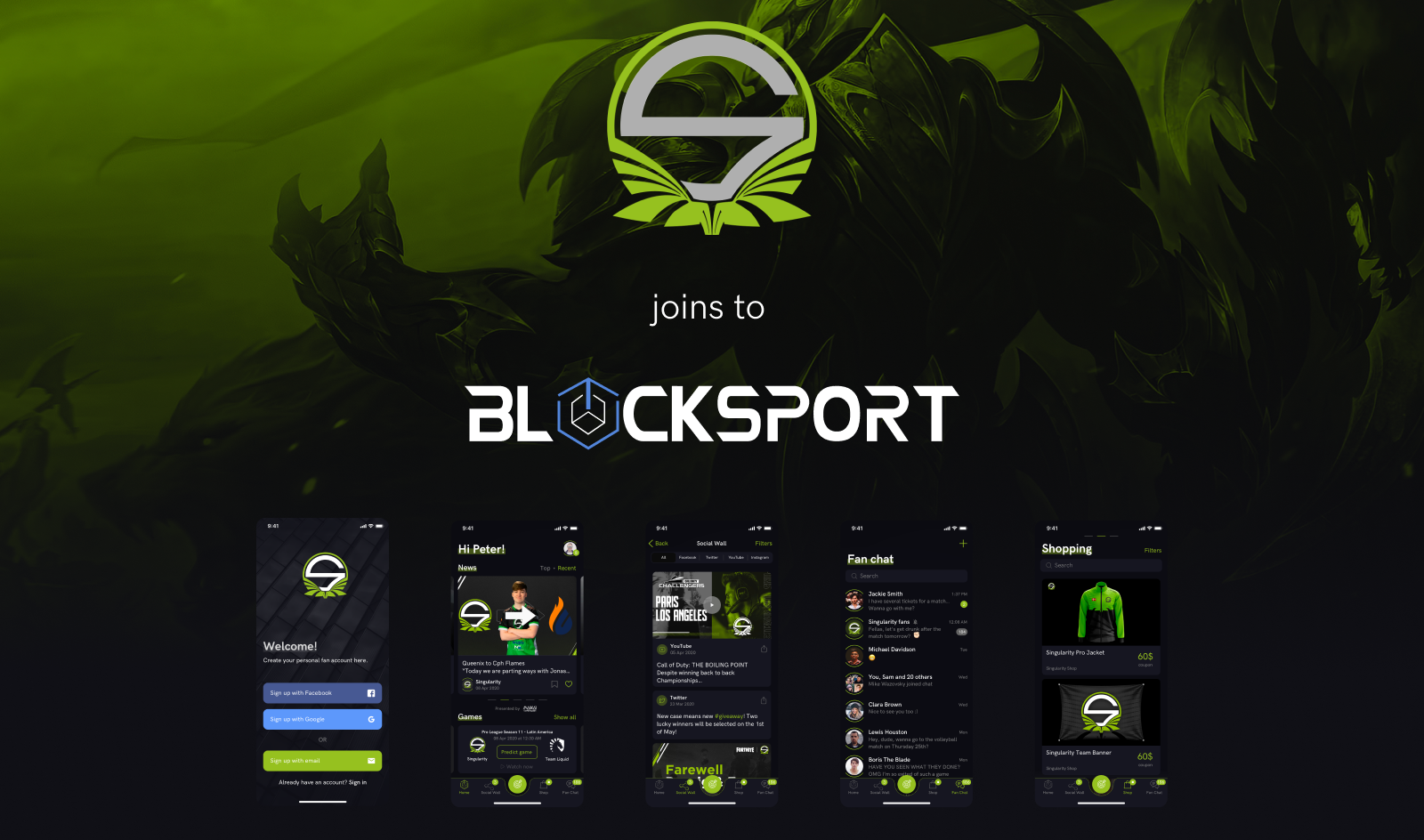 Zug, April 21th, 2020
The professional eSports organization Team Singularity, founded and based in Denmark, joins the Swiss-based SportsTech Blocksport to launch its innovative mobile app solution to strengthen its proximity with its international fan community.
Team Singularity is an expanding eSports organization, with the purpose of developing successful teams, building a professional environment for the players and creating a thriving ecosystem. With the mobile app, Team Singularity becomes one of the first Scandinavian clubs to take its first steps to underline its commitment towards innovation and new digital trends. Singularity will be able to strengthen its fan engagement and build its brand awareness while offering a unique experience to its fans around the world.
Blocksport's white-label gamified esports platform will offer Singularity's global fan base a new way to interact with the community, the teams, players and sponsoring partners. The mobile solution will allow fans to influence club-related decisions, play team-related fan games and access money can't buy benefits. Singularity and Sponsors can reward fans with exclusive discounts and unique experiences for their social media activities and participation in global fan games.
Vladimir Liulka, Blocksport's Co-Founder and CEO, says: "Team Singularity is led by experienced management, and we are confident that our mobile app will help Team Singularity to achieve the highest level of fan engagement. Welcome on board, Singularity!"
 Atle S. Stehouwer, Founder and CEO of Team Singularity comment on the partnership: "We are thrilled to partner up with Blocksport as we have been looking for the right company to help us develop a Singularity app that suits our needs and will help us with greater fan interaction."
About Team Singularity
Team Singularity is a professional esports organization with more than 80 players from 27 different nations, active in 12 gaming titles, operating in EU, NA & SA. The organization is active in PC, console and mobile gaming. The goal is to be the leading talent incubator in the world and to create a strong sustainable ecosystem for talents to thrive within.