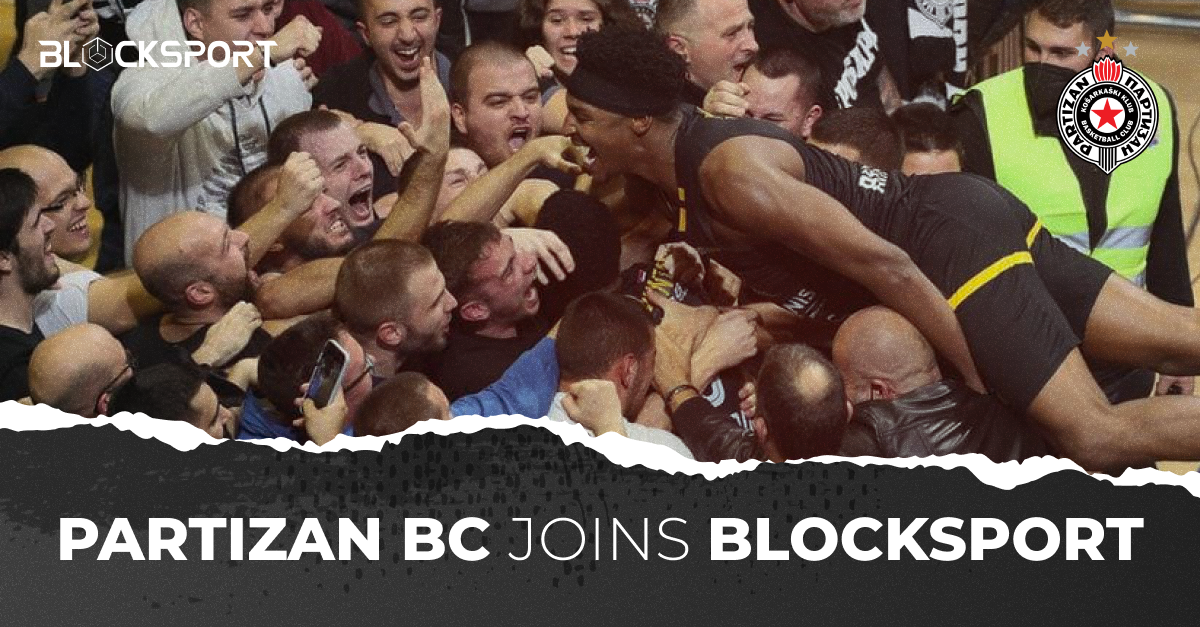 23 February 2022, Belgrade, Zug
One of the most successful basketball clubs in Europe with 48 trophies and most notably the European
Champion trophy at the Final Four of the EuroLeague in Istanbul in 1992 is the first basketball club in the world embracing the power of blockchain technology, digitalisation, and tokenization by signing a 5-year partnership with Swiss-based Sports Tech company Blocksport. The partnership aims to develop new digital ways for fans to be more involved with the club starting with the launch of a new interactive app for fans which will see engagement and digitalization for PARTIZAN BC fans reach a new level. It will be followed by the launch and release of Partizan's own Fan Tokens, which will be utility based, hence totally non speculative, and also NFTs which will give a global audience an opportunity to own some of the most magical moments and digital assets in Partizan's rich history. With this contract, PARTIZAN BECAME FIRST BASKETBALL CLUB IN THE WORLD to fully embrace the power of blockchain technology and tokenization.
The first stage of the multi-year partnership will feature the launch of Partizan's own Fan App to engage clubs'
fans with unique gamification features like fan voting, chats, predictions, and a fan rating system, as well as
many other benefits. It will create a unique digital space for all fans and in parallel also the launch of a Fan
Token and NFTs as Partizan BC closely work with Blocksport to evaluate and enter the world of blockchain
technologies in the best possible way, making sure the interest of the club and the interest of the fans is at the
heart of this partnership.
Dejan Kijanovic, CEO at PARTZIAN BC added:
"PARTIZAN is a basketball club with rich history and we are very proud to be the world's first basketball club
fully embracing the power of blockchain technology, digitalisation and tokenization. We are also very excited to
introduce more ways for fans to be involved with their beloved club by developing our digital community
through the platform that Blocksport can provide. Matching our sport ambitions with a next-level platform for fans is important as we prepare some very interesting way of interaction which will additionally strengthen
already very strong bond The Club and The Fans
Vladimir Liulka, CEO and Co-Founder at Blocksport said:
"The partnership with the basketball giants such as Partizan BC is very important for us at Blocksport as we
believe that we have found in Partizan the club with rich history, huge level of success as well as the advanced
understanding what this partnership can bring to the club and their fans too. As we have recently mentioned
in the global press, Blocksport is not looking for customers but partners who understand or are willing to learn
to understand the nature of this opportunity, and are in it for a long haul. Our partnerships are built on
empowerment, trust, and a huge value proposition for the sports industry and because of that we see huge
benefits for clubs such as PARTIZAN BC and are thrilled and excited to unlock the significant digital potential
for the club and their fan base too! Serbia is the hub of talent and huge potential, be it in basketball, football
or tennis (and many other sports such as waterpolo, rugby, handball) and due to the successful history and the
fact that many of its biggest stars ended up playing for the biggest NBA and other top European clubs, many of
whom coming out of PARTIZAN BC infrastructure, we are looking forward to the next steps and the launch of
Partizan's digital assets, first their Fan App, and then Fan Tokens and NFTs. It is important to state that our
tokens are non-speculative, hence we call them utility tokens, and for that reason they are only sold through
our platform and official club application. Hence, no club or federation is forced to list their tokens (digital
assets) at known or unknown crypto exchanges -which opens itself to all sorts of unwanted crypto traders,
taking control of the future of the club's digital currency and being at their mercy-. A listing is something that can be discussed and even executed in the future but that is never our first point of action. We are here to
serve the interest of the club and its fans. Today's clubs' boards and senior management must do the right
thing by their fans. It is ok to want to create new revenues not only to survive in today's super challenging and
highly competitive sporting environment, but also to win too. However they must choose credible and
transparent partners who will help them to do so and they must do it with a high level of integrity and
responsibility no matter how attractive that multi million pound cheque looks like. And we find PARTIZAN KK
and its management to be exactly that.
Vladimir Stevanovic, Blocksport Representative for the Balkans, added:
"This partnership is a milestone for Blocksport's expansion in Serbia and the Balkans region as a whole. We
have been working very hard over the past year to find the best way to introduce Blocksport to clubs who are
not only the leaders in their sport but also those who are aligned with the innovation and digitalisation within
the sport industry and from the first meetings with Partizan's management, it was evident that they wanted to
lead by example and they wanted to lead the way in the basketball world, not only in Serbia and the Balkans
but in the world too. "
It is very hard to sum up all playing legends whose paths crossed Partizan KK, the club whose players and
coaches made a huge positive contribution and impact on the European and world basketball by being the club
that has 'produced' the biggest number of NBA players and changed the perception the Americans used to
have about European basketball. And now that same club is leading the way when it comes down to 21 st
century digital strategy and blockchain technology.
About PARTIZAN KK
PARTIZAN BC is a professional basketball club based in Belgrade, Serbia. It is part of the multi-sports
Belgrade-based club Partizan. The club is a founding member and shareholder of the Adriatic Basketball
Association, and competes in the ABA League, the EuroCup and in the Basketball League of Serbia. Since 1945,
Partizan is the holder of 21 national champion titles and also won 16 national basketball cups, 6 Adriatic
championships and 1 ABA League Supercup. Partizan legends include the basketball legends such Danilovic,
Divac, Paspalj, Kicanovic, Dalipagic, Aleksandar Đorđević who is notable for his historic buzzer-beater in 1992
EuroLeague Final which ranks among the most famous shots in basketball history and its current coach Zeljko
Obradovic, as well as some of the best in the world at the moment, such as NBA player Bogdan Bogdanovic.
They also won 3 Korać Cups in 1978, 1979 and 1989 and participated in four Euroleague Final Fours. In
September 2009, Partizan became the first and to this day the only Serbian team to play an official game
against an NBA team.
About BLOCKSPORT
Blocksport is an innovative Technology provider providing solutions for the sports industry. The blockchain-
focused Sports Tech was founded in 2019 in Zug, Switzerland. Today, the company's flagship product serves
over 40 clients globally and among them top clubs including Empoli FC, Dynamo Kyiv, OHL, Metalist, Partizan BC, to name a few.