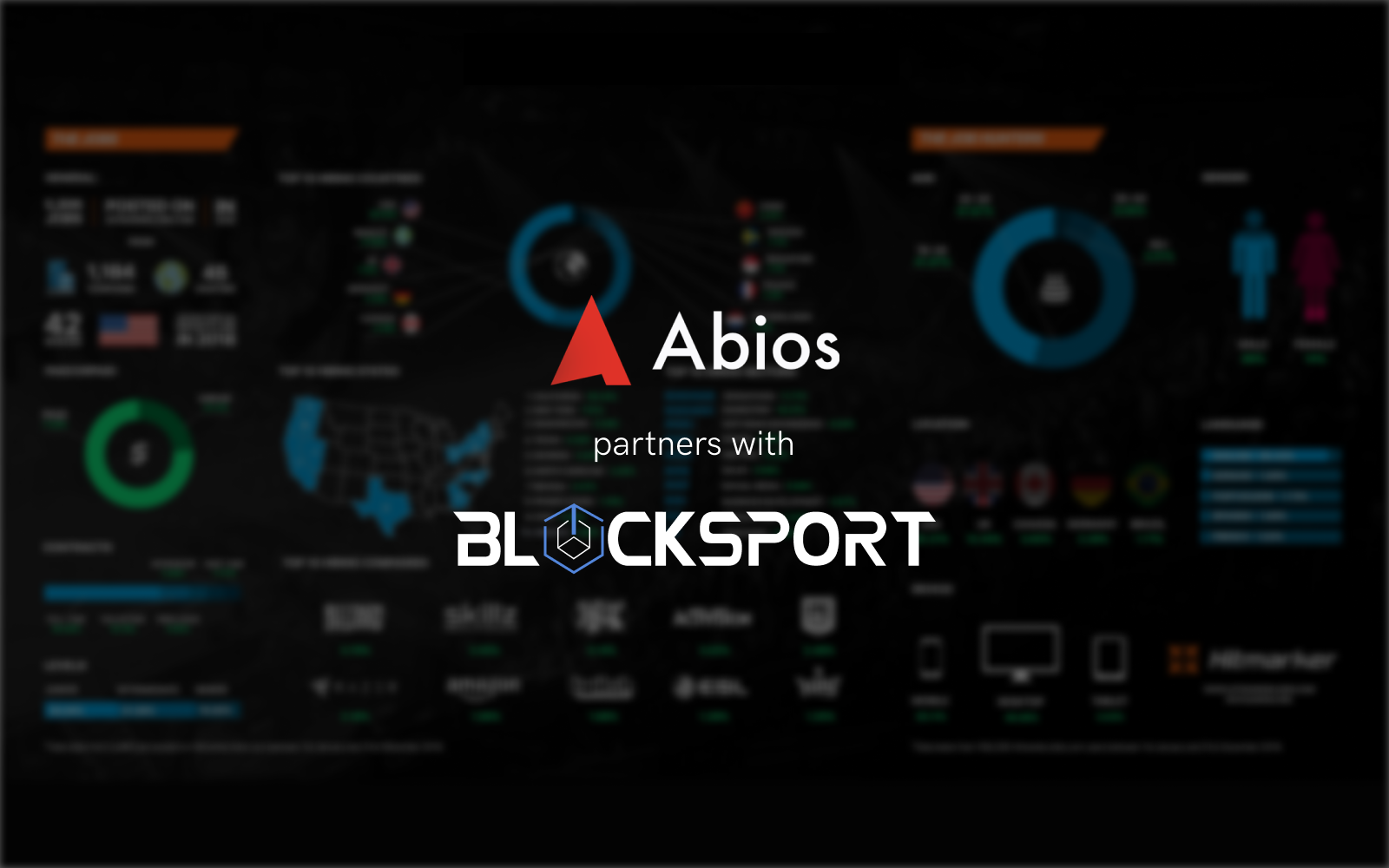 Stockholm and Zurich, April 1st, 2020
The Esports data provider Abios, specialized in real-time statistics for esports founded and based in Stockholm, is partnering up with the Swiss-based SportsTech Blocksport to support with the best in class live Esports data and statistics as well as analysis of teams, games, leagues and tournaments.
Abios is a B2B esports data company gathering, enriching and distributing engaging statistics, visualisations and odds. The Abios API offers the most detailed statistics and broadest coverage of matches, suitable for all data needs. Blocksport's innovative social sports platform offers Esports fans a new way to interact and to get closer to the teams. The white-label mobile solutions serve clubs and their fans with live data and statistics and engage fans social games and votes.
Vladimir Liulka, Blocksport CEO and Co-Founder says: "The partnership with a world leader in esports data strengthens our social sports ecosystem significantly. Esports clubs and their fans deserve only the best esports data, and we are ready to supply it from now. We are very much looking forward to a further successful partnership with Abios."
Oskar Fröberg, Abios CEO and Founder commented on the partnership by saying that: "Abios are thrilled to be partnering up with Blocksport and excited to see all of their unique applications for our data. Blocksport is generating lots of value for the industry by accomodating both teams and their fans in an engaging manner and Abios is proud to be contributing towards this end."
About Abios
Abios is a world-leading B2B provider of esports data and statistics. Founded in early 2013 Abios now works with companies and clients from all over the world focusing on everything from betting to media. The Abios API is the core product and offers the most detailed statistics and broadest coverage of matches, suitable for any and all data needs. Abios has everything from play-by-play granularity to live data of match events and statistics. Abios currently offers three different packages of data along with tailored solutions. The Abios Widgets provide engaging visual content with no technical overhead. They are seamlessly integrated to provide deep insight into any esports match, whether pregame or in-play. The Abios Odds are a statistically driven feed of probabilities for the most popular markets. Abios also offers a Trading Dashboard to clients looking to set the best possible live-odds.
Contact Abios
info@abiosgaming.com
Mosebacke Torg 1-3, 116 46 Stockholm, Sweden
(https://abiosgaming.com/)
About Blocksport
Blocksport is a Swiss SportsTech specialized in digital solutions for the sports industry. The next-generation social sports platform is used by Esports and traditional Sports clubs to increase and monetize digital fan engagement. Blocksport provides sports clubs with a white-label mobile solution to activate fans globally with a gamified and loyalty-based brand ecosystem that returns cash-backs to clubs/fans, and analyses as well as profiles consumption data across the ecosystem for a higher personalization.
Contact Blocksport
PR@blocksport.io
Dammstrasse 16, 6300 Zug, Switzerland
(https://blocksport.io)