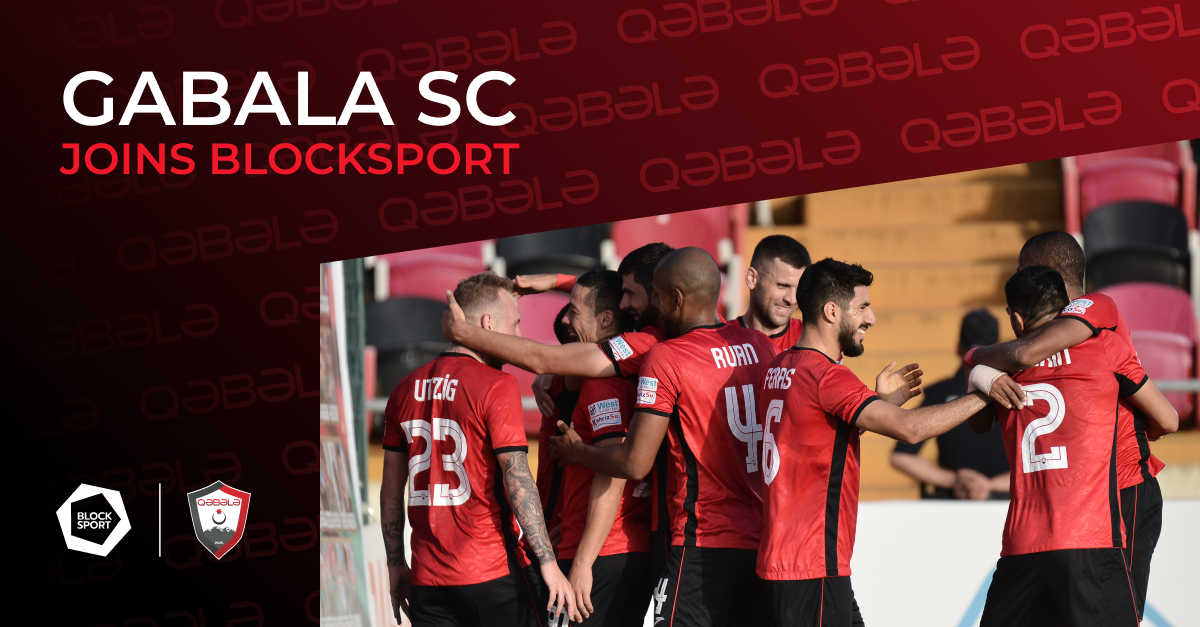 Gabala SC will be the first professional sports club in the Caucasus region to fully digitalize and tokenize fan engagement and explore the abilities of Web3 and blockchain with the Blocksport digital ecosystem. The Red-blacks signed a 3-year partnership with Blocksport that will include the development of branded Gabala SC fan application, the release of clubs' non-speculative and utility fan tokens, and unique NFT collections.  
This partnership is the first fully-embraced blockchain partnership in the Caucasus region and Azerbaijan that will change the approach to fan engagement and bring new experiences to all Gabala fans. The digital ecosystem will allow fans to interact with the club in the fan app with special polls, votes, unique content, predictions, and fan chats providing gamification with fan missions and fan ratings system. Fan tokens will be the next revolutionary step for both Gabala club and its fans with a combination of influence and benefits, that provide a 'money can't buy experience' and keep the fans safe with Blocksport fan token protection as a stablecoin and full control of fan token is under club. NFT collections will be a special addition for the red-blacks fans to have their memorable moments tokenized and have them as unique digital assets. 
Anar Hajiyev, PR, Media and Marketing Manager at Gabala SC:
"The integration of sports and football into constantly developing technological industry is one of the indispensable requirements of today's world. In this sense, cooperation with the leading European technology company "Blocksport" will create the basis for the Gabala Sports Club to keep up with technological innovations, maintain closer ties with its fans, strengthen its power. We believe in a mutually beneficial, successful experience which will be based on trust and support and will lead to a long-term cooperation."
Vladimir Liulka, CEO of Blocksport said:
"Establishing such a pioneering digitalization and tokenization partnership in the region is a crucial step not only for Blocksport and Gabala but for the whole Caucasian area and the development of sports innovations in this region. We partner up to show the abilities of technology to the club and its fans and establish a new level of fan engagement and new revenue streams for the club, creating a win-win situation for both sides as we empower this strategy in our vision. It is an honor to start working in this market with a respected, modern, and well-developed club like Gabala FC. We believe in a long-term partnership that will bring success for Gabala and Blocksport and will open up new opportunities for the professional sports entities in the Caucasian region."
Gabala SC is an Azerbaijanian football club was founded in 2005. Plays in Azebaijanian Premier League since 2006. Gabala has been the runner up in the Premier League three times and has won the national cup once, in 2019. It is one of the 2 teams that started the first qualifying round of the UEFA Europa League for 2 seasons and managed to move on to the group stage. Gabala's fan base has fluctuated over the years with high crowds coinciding with the club's success in the Premier League so that the club now averages in the top four best home attendances in the country and has around 30 000 fans. 
Blocksport is an innovative Technology provider providing solutions for the sports industry. The blockchain- focused Sports Tech was founded in 2019 in Zug, Switzerland. Today, the company's flagship product serves over 40 clients globally and among them top clubs like Empoli FC, FC Dynamo Kyiv, Partizan BC, Red Star RLC, Kaizer Chiefs FC, Kenya Rugby Union, Bulgarian Football Union, EFBet League, ARIS BC, FC OH Leuven, FC Metalist 1925 Kharkiv, Cordoba PCF, KMF Ekonomac, Partizan VK, etc.