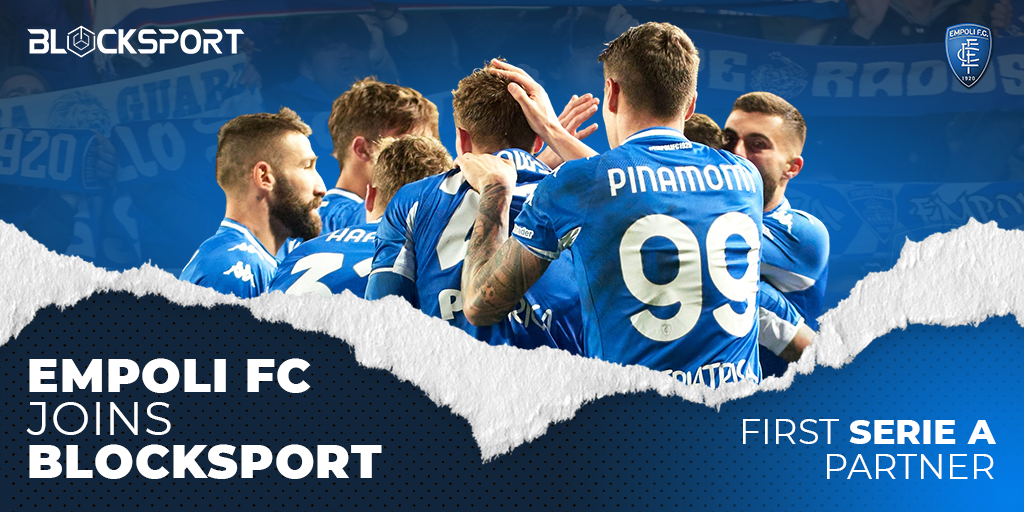 Azzurri are going to advance in digitalization and tokenization with the help of the Blocksport platform. The partnership will start with the official fan app release for all Empoli fans and then the Italian football club will launch NFTs and Fan Tokens as a part of the tokenization process. 
Fan application is a huge opportunity for both club and fans to feel more connected, here Azzurri fans can find unique options like match predictions, fan chats, exclusive content, and fan missions. NFTs give Empoli fans an opportunity to buy unique digital assets like photos, cards, videos, and memorabilia. With Fan Token Empoli fans can directly take part in clubs' life, buying fan tokens gives an opportunity to vote for important decisions and to exchange them for "money can't buy" items and experiences. 
Empoli is a Serie A club based in the Tuscany region and founded in 1920. Since then Azzurri have participated 14 times in Serie A from the first time (1986-87) and they are currently in eighth place in the Serie A rankings, stunning the entire nation. The club plays at Stadio Carlo Castellani with 16,284 capacity, Empoli is known for many big names who worked and played here like Maurizio Sarri, Luciano Spalletti, Luca Toni, Sebastian Giovinco, Antonio Di Natale Francesco Caputo, Giovanni Di Lorenzo, Claudio Marchisio, Vincenzo Montella and many others. 
Blocksport is a Swiss-based SportsTech company with specialization in tokenization and digitalization, they provide traditional and esports clubs with white-label branded fan app with the model of subscription, so clubs don't need to pay much for development. Also, Blocksport is a platform for NFTs and Fan Tokens for their partners where they can launch and sell them. Among Blocksport partners are Ukrainian football champions Dynamo Kyiv, English Rugby League top-tier club Salford Red Devils, and Virtus.pro – Tier 1 organization in esports. 
Andrea Donegà, Blocksport's manager in Italy, said: "We are delighted to be able to work with a historic and fast-growing club like Empoli FC, which has proven to be visionary and forward-thinking in identifying the value of these new technologies. We at Blocksport aim to help them grow their fanbase also at an international level and give their fans new wonderful experiences, in order to build even more solid foundations and exploit new digital revenue streams for the Club."
"It is with great satisfaction – commented Empoli COO Gianmarco Lupi – that we announce Empoli's arrival in the world of NFT and FAN TOKEN just one year after the entry of the top clubs from all over the world. In recent months there have been many crypto players who have come to our club and this confirms the important history and sporting results of the club. Together with Vice President Rebecca Corsi we strongly wanted this thing, we evaluated what was the best opportunity and we've identified Blocksport as the perfect partner, who will create a series of Fan tokens and NFTs dedicated both to the present but also to the past by virtue of the legends we had. The main objective of the partnership is to monitor and involve new targets who are becoming more and more passionate about the world of Cryptocurrencies. Soon we will also expand our presence on the social platforms of the moment like TikTok and Twitch in order to create a further link with our fans by telling more in-depth the daily life of the club."