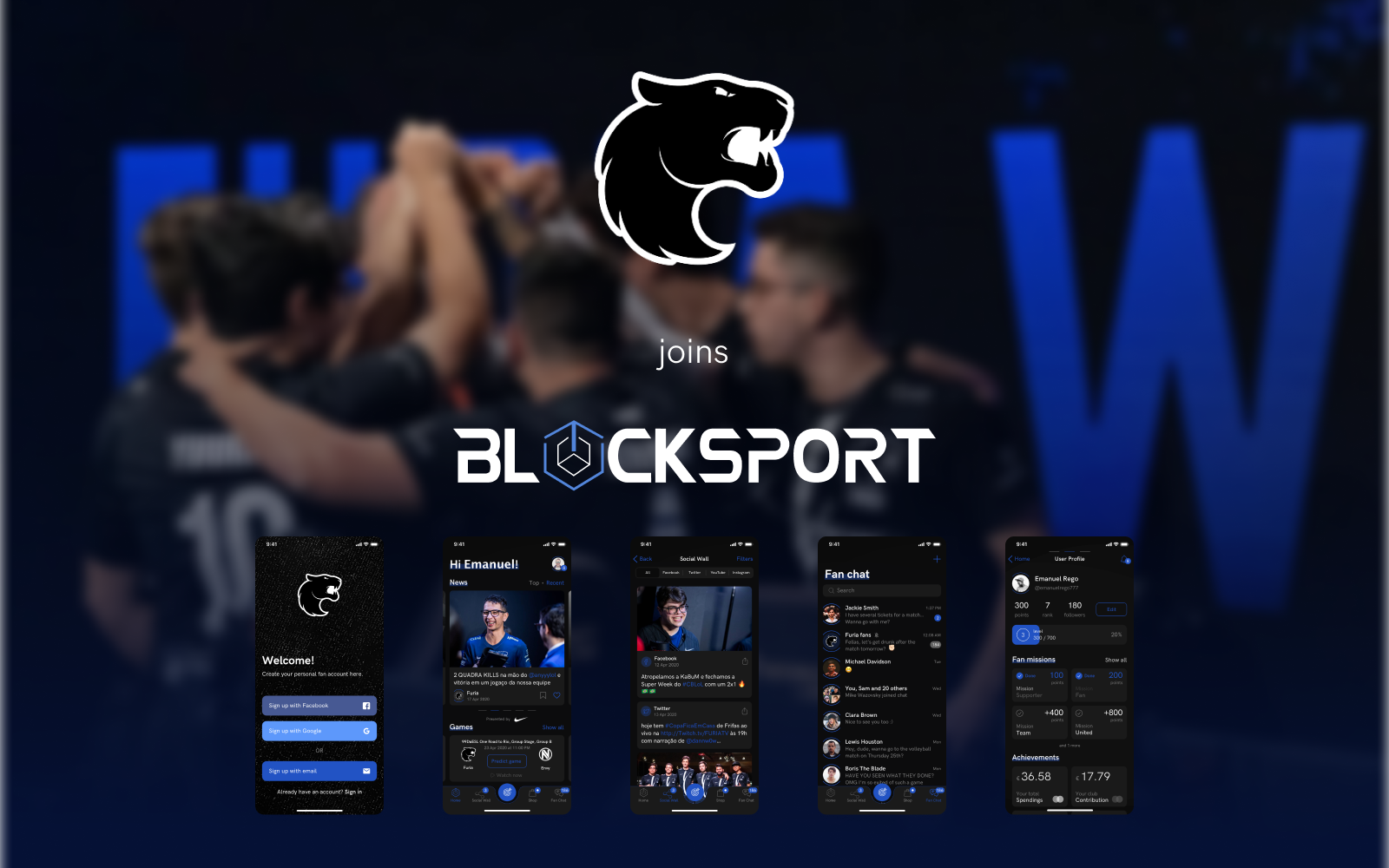 Zug, April 23rd, 2020
The professional eSports organization Furia, founded and based in Brazil, joins the Swiss-based SportsTech Blocksport to launch its own mobile app solution to strengthen its proximity with its South American fan community.
Furia is a fast-growing CSGO organization that has been founded in August 2017 by Jaime "raizen" Pádua. Today it is building a professional environment for the players and creating a thriving ecosystem including a Furia female esports and Furia academy. With the support of Blocksport's mobile app, Furia becomes the first South American esports club to take its first steps to underline its commitment towards innovation and gamified fan engagement. Blocksport will be able to strengthen its fan community and build its brand awareness while offering a unique experience to its fans and sponsoring partners.
Blocksport's white-label esports app will offer Furia's growing fan base a gamified way to interact with the community, the teams, players and sponsoring partners. The mobile solution will allow fans to influence club-related decisions within polls, play team-related fan games and access money can't buy benefits. Furia and Sponsors can reward fans with exclusive discounts and unique experiences for their in-app activities and participation in the global community creation.
Vladimir Liulka, Blocksport's Co-Founder and CEO, says: "We are delighted to have signed with Furia, one of the most innovative and forward-thinking esports organizations in the world. Welcome on board, Furia!"
Jaime Pádua, Furia's CEO and Founder, comments on this partnership: "Furia is 100% excited to be a partner with Blocksport. We believe it will be a long and reliable partnership. Our fans will engage even more with Furia!"
***
About Furia
FURIA is a premier esports organization with a world-class Counter-Strike: Global Offensive team. Established in August 2017, FURIA has already become one of the fastest-growing organizations in the esports market. The company also stands out for the huge engagement of its fan base and its unique way to create exclusive content like FURIATV, the biggest streaming channel owned by an electronic sports club in the world.