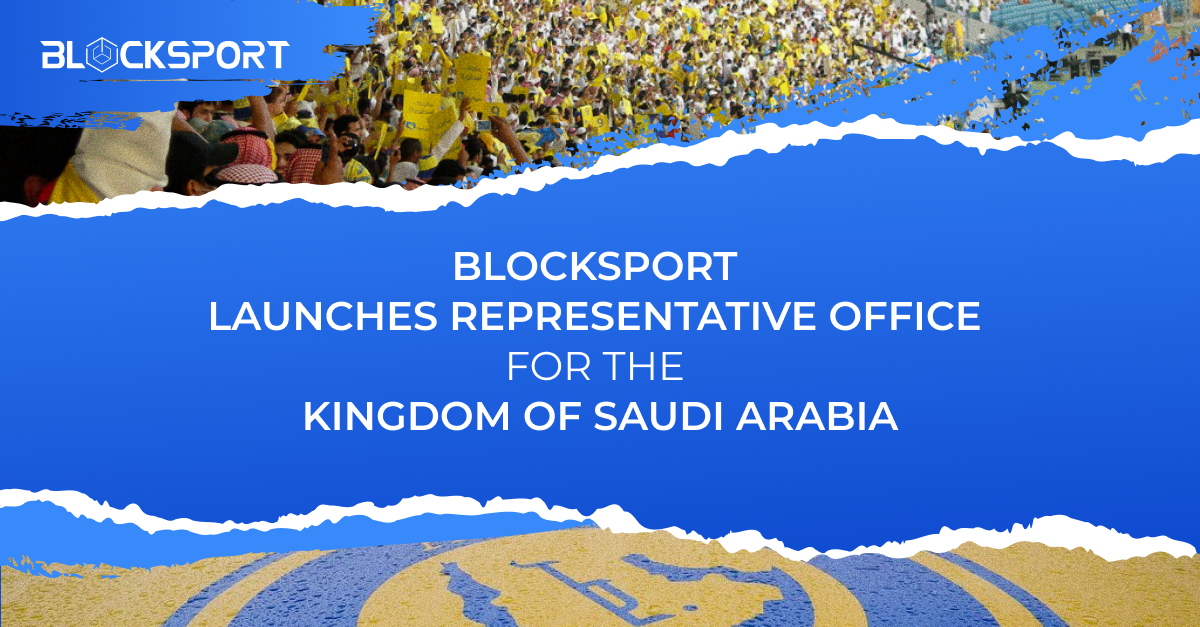 Blocksport, one of the world's leading SportsTech solutions provider, announces the appointment of its representatives for the Kingdom of Saudi Arabia and MENA Region, as a part of its global strategy to lead the market with the launch of non-speculative fan tokens, as well as lead the way in the sports industry when it comes down to digitalization and commercialization, leading by best practices and educating the industry in the process.  This move is designed to take an initiative aimed at the sports marketplace of the MENA Region, starting with the Kingdom of Saudi Arabia, to ensure the safeguarding of clubs' and sporting entities' biggest asset base, which is their fan base.
Samir Ceric, COO of Blocksport says: 'Far too many cases of fan base 'abuse' are appearing in the marketplace today, and we at Blocksport want to demonstrate that one can win business and be profitable by ensuring that it can be achieved in the honest and transparent fashion, assisting clubs, leagues and federations in ensuring the safeguarding of clubs' and sporting entities' biggest asset base, which is their fan base.  The MENA region is of great importance for Blocksport and starting with THE Kingdom of Saudi Arabia and our representatives on the ground there is the step in the right direction. This is also a very important year for the MENA region with the Word Cup being held in Qatar in November and December 2022 and I feel that Blocksport is best placed to service the entire region by offering non-speculative, utility, tokens which is in line with the Islamic finance regulations. Being more than Fan Token provider but a true technology partner for clubs, leagues and federations, I am very confident that our journey in the MENA region, which is starting with the Kingdom of Saudi Arabia (KSA), will be highly successful and fruitful and the appointment of SPORTS TEAMS office supports that optimism and ambition. The Middle East continues to invest in the sports industry not only in the MENA region but outside and we have seen that recently with the acquisition of Newcastle United FC by the Saudi Arabia's Public Investment Fund (PIF), chaired by Saudi Arabia's Crown Prince Mohammed bin Salman. 
Naif R.K. Bin Hethlain of SPORTS TEAMS says: "We are thrilled with this appointment as we believe the KSA and MENA region are ripe for blockchain solutions sports tech leaders like Blocksport offer. What made us believe Blocksport is the right partner for us is the fact that they have a unique offering which is not only about Fan Tokens or NFTs but much more than that. They offer a unique digital ecosystem designed to create new revenue streams for Middle Eastern clubs, leagues and federations which also don't engage in speculative activities but first and foremost protect fan base as well as clubs reputation and credibility. We believe Blocksport will play a major part in this World Cup Year in Qatar and are excited about the opportunity that is offered to us hence we are convinced all important sporting properties of KSA and MENA region will soon partner up with Blocksport. We very much look forward to working with COO Samir Ceric and CEO Vladimir Liulka and their teams and can't wait to start our conversations with clubs and federations decision makers. "
This announcement comes at the time when Blocksport continues its global growth plans by slowly but steady entering all important geographical locations including South America, Africa, Australia and soon Canada and North America as bigger and bigger sporting properties are coming on-board of the concept that is designed to create revenues short, medium and long term and most importantly directly improve and increase fan engagement between sports organisations and their fan bases in an open, transparent and genuine way with real and long lasting benefits.
 About BLOCKSPORT
Blocksport is an innovative Technology provider providing solutions for the sports industry. The blockchain- focused Sports Tech was founded in 2019 in Zug, Switzerland. Today, the company's flagship product serves over 40 clients globally and among them top clubs including Empoli FC, Dynamo Kyiv, OHL, Metalist, Partizan BC, Red Star RC, Cordoba PCF, ARIS BC, to name a few.