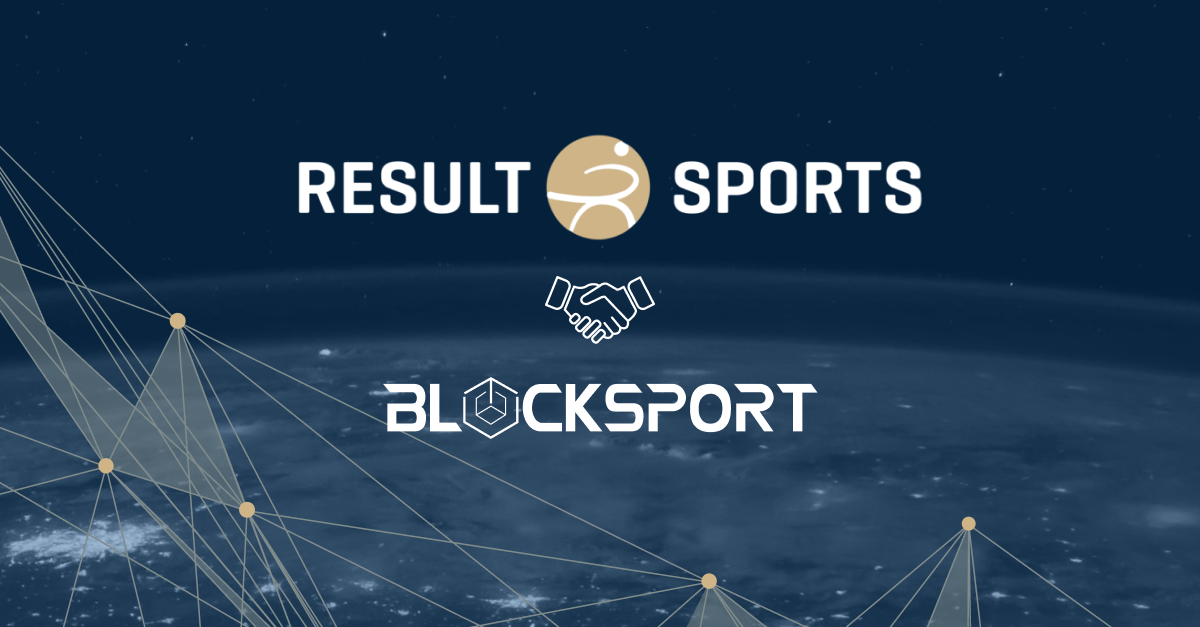 14 January 2022, London, Büdingen, Zug 
Blocksport, a leading SportsTech solutions provider, and RESULT Sports, a Pioneer in Digital Sports, have signed a strategic partnership with the main objective to lead the way in the sports industry when it comes down to digitalization and commercialization, leading by best practices and educating the industry in the process.
Innovative applications and solutions from Blocksport meet Digital Enablement, as RESULT Sports works with some of the biggest brands and organizations around the world, with the likes of AS Roma, FC Barcelona, Borussia Dortmund, Shakhtar Donetsk, the DFB, ÖFB, EHF, CEV, and UEFA.
Samir Ceric, the newly appointed Chief Operation Officer of Blocksport as well as Chief Strategy Officer of RESULT Sports, said: "I am thrilled with the fact that this week RESULT Sports and Blocksport have officially joined forces in this exciting strategic partnership announcement. Having personally known the founders and CEOs of both companies, Mario Leo and Vladimir Liulka, and being an integral part of both companies and their global plans, I recognized the uniqueness behind both companies as well as the ambition, determination, and commitment of both founders in democratization and digitalization of the entire sports market, leading by innovation, openness, and transparency. Those characteristics and attitudes of both visionaries have made me want to join their respective companies as well as make this strategic partnership happen. I am very excited about the fact that this partnership also means that we will be working more closely together in the weeks, months, and years to come, combining our networks and energy and becoming a prime example of how generous collaborations in the sports industry create success stories on the global stage. "
Vladimir Liulka, Co-founder & CEO of Blocksport, said:  "Blocksport empowers all our partners to form deeper connections with their communities and fans through innovative fan engagement solutions, be it a fan app, fan token or an NFT in a strong blockchain based eco-system where each club, federation or league can ensure that their fan base is well looked after and there are no risks of fans being compromised. Blocksport cares a lot about its own reputation as well as the reputation of its partners, be it clubs or strategic partners like RESULT Sports, as we are in this for a long haul and are only interested in working with credible and reputable sports entities. And that is what makes me very excited about collaborating with RESULT Sports of Mario Leo. Working with somebody who is held in such high regard across the sports industry and who can personally claim to have been working with the likes of Borussia Dortmund since 2009 on digital strategy when digital was largely just a buzzword, is a huge honor and privilege and I am thankful to our COO Samir Ceric for making this partnership happen. Partnerships like this are what Blocksport wants to do more of. By joining forces, we can surely achieve so much more both individually and more importantly collectively in the space that has clear winners and losers, as well as all sorts of risks associated with picking your partners. I very much look forward to what the future holds for this strategic partnership."
Mario Leo, Co-founder & CEO of RESULT Sports, said: "RESULT Sports enables athletes, clubs, leagues, and federations to succeed in the digital transformation. With our data-centric approach, we determine real opportunities, quality engagements, and steady growth across all digital platforms. Understanding the data and owning the biggest part of it, is key to succeed in the future. Providing the highest quality and steady value to our partners leads to long-lasting relationships and agreements in the sports industry. Digital is a constant evolution and comes along with always new services, solutions, features, and/ or functions, which often end up in a huge complexity and the challenge to integrate into the overall strategy. That's where RESULT Sports as the platform is positioned to enable the sports organizations to succeed and include a constant knowledge transfer to enable the success. And this is completely aligned with the mindset of BLOCKSPORT. The partnership is built on empowerment, trust, and a huge value proposition for the sports industry. At the intersection with the large and highly innovative offering of BLOCKSPORT and the analytical, predictable capabilities of RESULT Sports, we see huge benefits for athletes, clubs, leagues, and federations. We are thrilled and excited to unlock the significant digital potential!"
This partnership is designed to be a mutually supportive initiative aimed at the sports marketplace by the two market leaders in their respective fields of digitalization within the sports industry that leads by best practices and ensure the safeguarding of clubs' and sporting entities' biggest asset base, which is their fan base. Far too many cases of fan base 'abuse' are appearing in the marketplace today, and RESULT Sports and Blocksport want to demonstrate that one can win business and be profitable by ensuring that it can be achieved in an honest and transparent fashion.
About Blocksport
Blocksport is an innovative Technology provider providing solutions for the sports industry. Blockchain-focused Sports Tech was founded in 2019 in Zug, Switzerland. Today, the company's flagship product serves over 40 clients globally and among the top clubs including Empoli FC, Dynamo Kyiv, OHL, Metalist, Partizan, Red Star, to name a few.
About RESULT Sports
RESULT Sports is a Pioneer in Digital Sports and understands the challenges and unlocks the potential on digital platforms for Athletes, Clubs, Leagues, and Federations for the past 12 years. RESULT Sports' clients include the likes of Borussia Dortmund, Juventus, City Football Group, AS Roma, Celtic, Benfica as well as the likes of the German or the Austrian Football Association and UEFA.