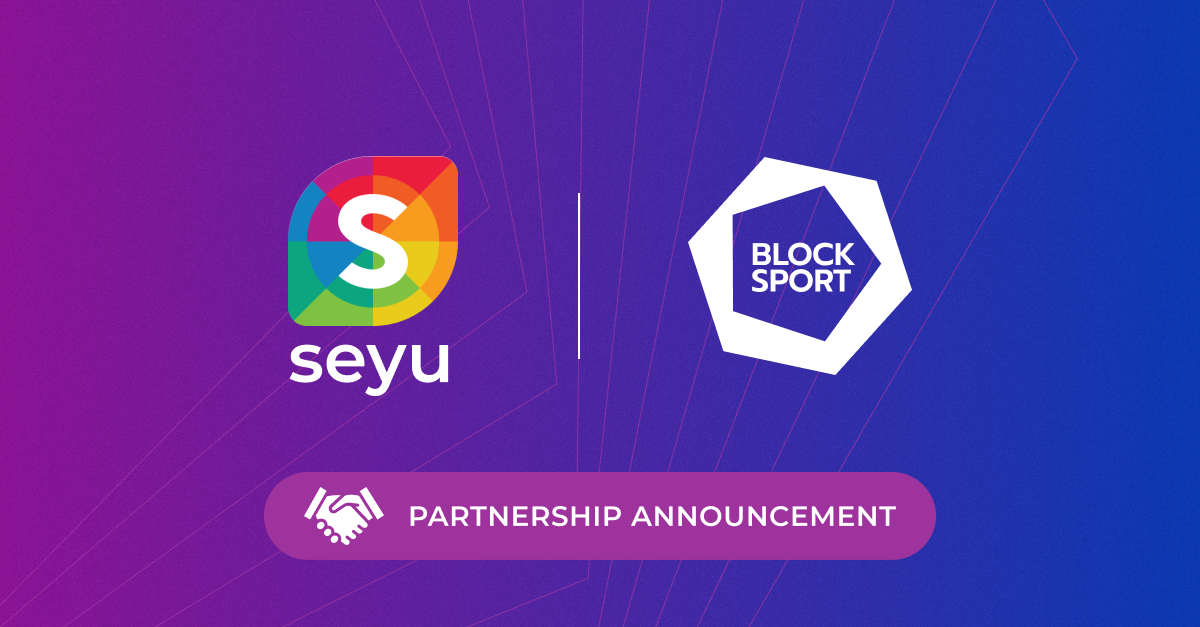 05 July 2022, London, Budapest, Zug 
Blocksport, a leading SportsTech solutions provider, and Seyu, a real-time moderated, branded, fan-generated content delivery solution are forging a strategic partnership. The alliance is aiming to help sports industry's rights holders best embrace market leading sports technologies in order to improve their fan engagement and data collection while creating new revenue sources.
Leading by best practices and evolving fan-engagement digitalization hand in hand with clubs are the objectives that both companies live by. This exciting, new partnership is designed to strengthen the core network of half a dozen sport tech businesses determined to make a mark on the industry across the globe. Each company demonstrates that transparency, knowledge and the right approach are the most important things when engaging with global fan bases. Fan bases that are on a global scale come from different backgrounds and cultures but united in the love for football and sport clubs that they passionately support. Sport is a lot more than a game and fandom for many is a way of life, a philosophy, even a new religion. Thanks to technology, these emotions can now be unearthed and channeled into the stadiums and arenas from anywhere in the world. 
Samir Ceric, the Chief Operation Officer of Blocksport AG, said:
"I am thrilled with the fact that this week Seyu and Blocksport have officially joined forces in this exciting strategic partnership announcement. Having personally known Seyu's founder and CEO, Tom Vechy Vecsernyes, for some time now, having brought him to the football club I used to be a Chairman of, and also introduced to some other sports clubs across Europe. I saw first-hand how unique and powerful Seyu's solution can be, and how it is aligned with the interest of the club as well as our own vision behind Blocksport. I am very exciting with the fact that we will continue our long standing collaboration, now as two important strategic partners between Blocksport and Seyu, and help open doors for one another within our existing sport networks, with the aim of helping clubs and other sporting entities generate additional revenues and remain viable and more profitable in the process; and all for the benefit of their biggest asset, their fan base. Improving fan engagement in the process and deepening these important relationships are often mission critical no matter which club or country are concerned. 
Tom Vechy Vecsernyes, Seyu's Co-Founder and CEO, says:
"Joining forces with talented companies like Blocksport is always a step taken in the right direction on the path of global expansion for Seyu. We strongly believe that together it is much easier to find solutions for challenges that business life or life in general might throw at our team, hence our motto: "Together for Victory!". Samir Ceric and Blocksport's involvement in the journey of Seyu, and vice versa, will deliver immense value to both companies' existing and new partners when creating joint offerings for the market that I am certain of. We are looking forward to our collaboration."
Seyu was recently awarded as one of the most promising fifteen start-ups in Hungary (in all sectors), representing the sport tech industry on its own. Working with clubs like CD Leganés, SD Ponferradina or brands like Vodafone UK (ESA Award 2021 Top 3), EON and Mercedes-Benz, while Finetwork already landed a chance for the start-up to showcase the power of its solution on the Spanish national team's match against Kosovo. Amongst many world events Seyu's solution was favoured by the organizers of events such as UEFA U21 European Championship 2021 and FINA World Championship 2022. Seyu recently became one of the number one solutions which helps clubs not only involve their remote fan base in match days, but to find a new, sustainable revenue source in a financially challenging period as a result of the pandemic.
The Future Is Now: Generation Y and Z are the new faces of fandom. Understanding their needs and tailoring one's brand for the digital realm presents new opportunities for engagement. It is the key to making them feel more connected to one's club, national team and the chosen sport. When fans are happy, it is also a victory for the club or national team they support. Blockchain gives sports clubs, leagues and football and other sports associations the chance to do just that.
About Seyu
'Seyu – Together for Victory!' is a real-time moderated, branded, fan-generated content provider. Seyu is a technology solution for sports fans that enables them to motivate their favorite teams or athletes from anywhere in the world. The company uses partners' existing IT infrastructure to allow fans around the world to post images to stadium LEDs and other digital surfaces during sports events through a moderated channel and then instantly share them on social media with media-branded frames. The service, which has been proven to be successful at more than 350 sports events, is one of the leading sports tech services in Hungary, and lovers of international sports are regularly able to enjoy its benefits as well.