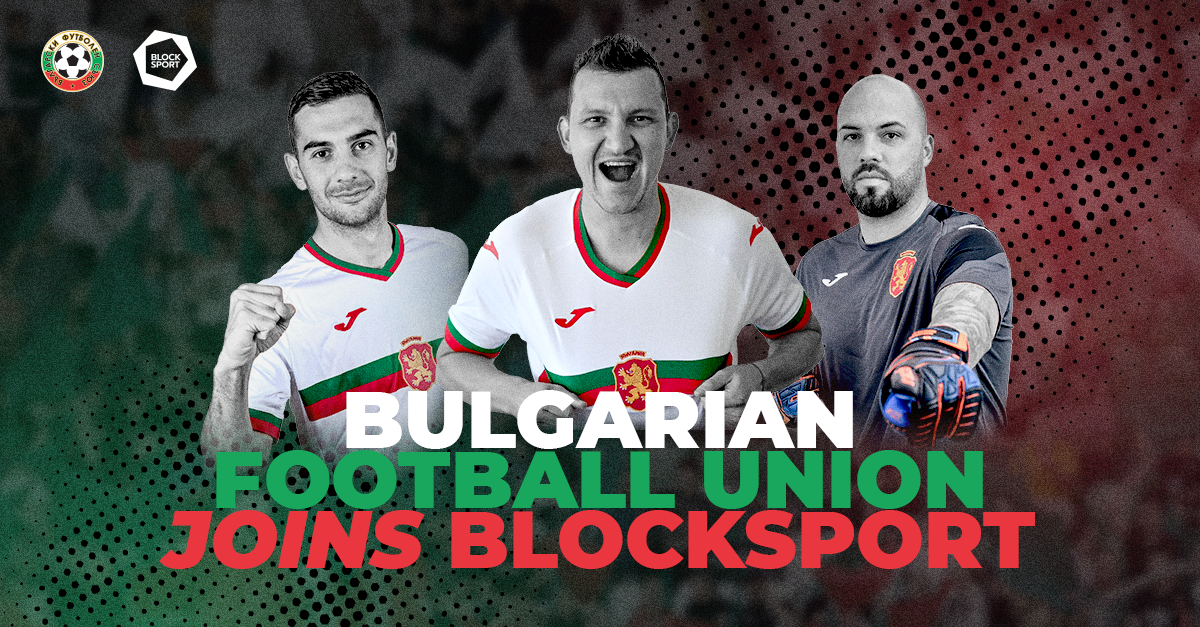 1 July 2022, Sofia, Zug
Bulgarian Football Union signs a 5-year partnership BLOCKSPORT AG, a leading Swiss sports tech solutions provider, to create the full digital ecosystem with the launch Fan Engagement App, Fan Token and NFTs as World's first football federation to fully embrace the power of blockchain technology and tokenization for the benefit of the Bulgarian football and Bulgarian sport as a whole. This is the world's first when it comes down to the entire digital ecosystem as many football and sports federations have opted for a silo effect by signing up with multiple partners in a way that does not connect the dots. 
By signing this 5-year partnership, BFU has positioned itself as the first football and sport federation in the world to fully embrace the power of blockchain technology, digitalisation, and tokenization. The partnership aims to develop new digital ways for fans to be more involved with the national team starting with the launch of a new interactive app for fans which will see engagement and digitalization go beyond the borders of Bulgaria and the region. It will be followed by the launch and release of BFU's NFTs, and eventually the national team's own Fan Tokens which will be utility based, hence totally non speculative. Bulgarian football produced some of the most famous world footballers including the Golden Generation that reached the semi-finals of the 1994 World Cup. 
While trading fan tokens might be great, Blocksport brings something a little different to the table. It is currently the only company that offers non-speculative utility fan tokens, specifically designed to drive real fan engagement. Several top-tier clubs are leveraging these tokens to create digital memberships that give fans exclusive perks depending on their membership level. Fans get real value and engagement based on their level, while teams get to build loyalty and cash in on new revenue streams.
Borislav Mihaylov, President of the Bulgarian Football Union, said;
"I am honoured and proud with the fact the Bulgarian Football Union will be the first football federation and the first football league with a fully completed digital ecosystem which will not only benefit our national team, our first league clubs but our football fans too. You often read in the press how American, Asian, English, German sports leagues and federations go ahead of the curve in this space and announce commercial arrangements that further benefit their already well run and funded sports infrastructure. However I feel this is a turnaround for this part of Europe, which has historically been full of potential and talent It is a great privilege to be at the helm of the football federation that has recognised this potential and is prepared to open up new frontiers in the digital space which in return will make us stand out from the crowd and attract investment not only into our football industry but our sport too. I truly hope that other successful sports in Bulgaria (and Balkans region) will follow in our footsteps and recognise the opportunity and potential in what we are doing. I would like to thank my team for working relentlessly over the past 12 months and bringing this solution based out of Switzerland and the world's most regulated and transparent crypto valley, Zug, to my attention. I very much look forward to the next steps and the journey ahead."
Vladimir Liulka, CEO and Co-Founder at Blocksport said:
"As Mr Mihaylov said, it is a great privilege to be announcing this exciting new partnership with the world's first football federation which has fully understood the unique approach we offer at Blocksport and which has trusted us to lead the way in educating both them, inside the BFU, but also their clubs and fans in the process too. I am very much looking forward to ensuring that such partnerships travel a long way and become the case studies how things in the sports industry ought to be done. I am thankful to my team for making such partnerships happen and can't wait to see the concrete results in the weeks and months to come. " 
Vladimir Stevanovic, Blocksport Representative for the Balkans, added:
"Being a part of sports history by announcing the world's first sports federation and league in this way is a great honour. It has been a long journey, with lots of challenges in the process, however it is all worth it when everything falls into place and things work out exactly how you intended them to. As a big fan of Bulgarian football and its former glory days I very much believe that such projects and ventures could end up being a positive turning point of Bulgarian sport and it is great to see how Mr Mihaylov's leadership at the helm of BFU opens up brand new frontiers for not only Bulgarian football scene but the Bulgarian sport as a whole."
NFTs have been around in the art industry since 2014 and have become the hot topic and a big phenomenon in the sports industry only in the past couple of years where many major clubs including the likes of Liverpool FC, have got their strategy and partnerships wrong, by teaming up with the likes of Sotheby's, one of the biggest auction houses in the world, which ended up being a wrong move. However what is important that even mistakes and wrong calls are used as a part of the learning curve. Hence this partnership between Blocksport and BFU aim to deliver a long term value for not only for the BFU, but the country's football industry and the sport as a whole. 
The Future Is Now: Generation Y and Z are the new faces of fandom. Understanding their needs and tailoring one's brand for the digital realm presents new opportunities for engagement. It is the key to making them feel more connected to one's club, national team and the chosen sport. When fans are happy, it is also a victory for the club or national team they support. Blockchain gives sports clubs, leagues and football and other sports associations the chance to do just that.
About Bulgarian Football Union
The Bulgarian Football Union is a football association based in Bulgaria and a member of UEFA. It organizes a football league, Bulgarian Parva Liga, and fields its Bulgaria national football team in UEFA and FIFA -authorised competitions. A legal entity that it claims descent from was founded in 1923 as the football department of the Bulgarian National Sports Federation, which existed until the Soviet invasion of 1944. The football governing body was then known as the Central Football Committee until 1948, the Republican Section for Football from 1948 until 1962 and the Bulgarian Football Federation from 1962 until 1985. On 27 June 1985, the organization was renamed the Bulgarian Football Union, the name that it carries today. The First Professional Football League, also known as the the efbet League for sponsorship reasons, is a professional association football league, located at the top of the Bulgarian football league system. Contested by 16 teams, it operates on a system of promotion and relegation with the Second Professional Football League. The Bulgarian football championship was inaugurated in 1924 as the Bulgarian State Football Championship and has been played in a league format since 1948, when the A Group was established. The champions of the First League have the right to participate in the qualifying rounds of the UEFA Champions League based on the league's European coefficient. Additionally, two UEFA Europa League spots are allocated to the second team in the final standings and the winner of the European playoffs. Since 1948, eleven different teams have been crowned champions of Bulgaria. The three most successful clubs are CSKA Sofia with 31 titles, Levski Sofia with 26 titles and Ludogorets Razgrad with 11 titles. The current champions Ludogorets Razgrad won their eleventh consecutive title in their eleventh First League season in 2021–22. The competition has been dominated by Sofia-based teams. The Sofia teams have won together a total number of 70 titles.
About BLOCKSPORT
Blocksport is an innovative Technology provider providing solutions for the sports industry. The blockchain- focused Sports Tech was founded in 2019 in Zug, Switzerland. Today, the company's flagship product serves over 40 clients globally and among them top clubs like Empoli FC, FC Dynamo Kyiv, Partizan BC, Red Star RLC, Kaizer Chiefs FC, Bulgarian Football Union, ARIS BC, FC OH Leuven, FC Metalist 1925 Kharkiv, Cordoba PCF, KMF Ekonomac, Partizan VK, Wild Boars American Football, to name a few. Blocksport is designed to demonstrate how cutting edge technologies can assist sport clubs generate new revenue streams and help sports fans enjoy a better digital experience with their beloved clubs.  Many top-level teams and clubs are embracing blockchain-based solutions to ramp up engagement and monetize their ever-growing fan base. Implementing this innovation is critical to the survival of sports clubs and associations in an increasingly competitive space.