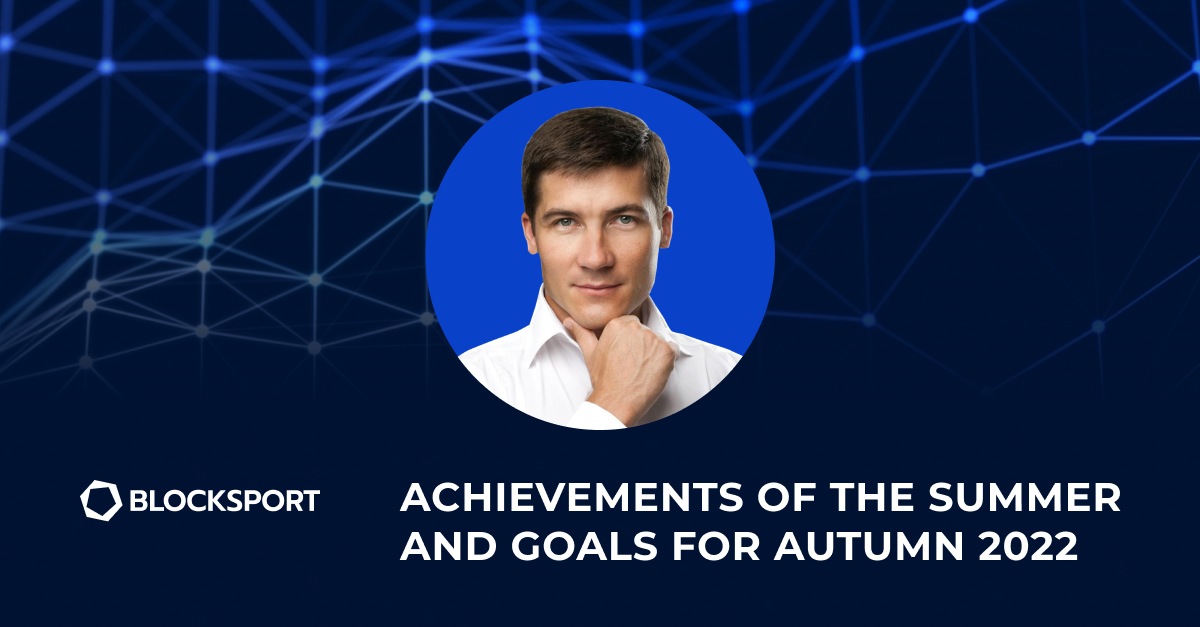 This summer was "scorching" for Blocksport as lots of things happened, even though it is usually not an active period both in the world of sports and business. 
We sit down to talk with Vladimir Liulka, CEO and Co-Founder of Blocksport, about all that happened during the summer and his plans for this autumn. 
What comes first to mind when thinking about Blocksport's achievements this summer? 
The first thing that comes to my mind is the fan token launches for our partners Partizan BC and Empoli FC – clubs that play in major domestic and European competitions. However, I think the story of this project goes even further than one token launch, considering the history of both clubs and their fan bases. 
The second is signing new partners, and I can say that recently we have entered the field of leagues and federations, which is very good for Blocksport.
It is worth saying; that we should keep in mind the development of our platform. Blocksport 2.0 will be introduced this autumn as we are in the final stages, and it will be even more user-friendly and gamified. 
Let's talk more about fan token launches for Partizan and Empoli – can you share some insights on those projects?
Sure, Empoli launched its fan token first at the end of June, presenting many exciting features to its fans like birthday videos for players, exclusive VIP tickets, and digital assets. However, we already see how this project influences the Azzuri fan base as clubs as the first fan token holders received VIP tickets at the most crucial game for Empoli fans – the Tuscany derby and enjoyed the game experience like never before. 
As for the Partizan, this project is massive for the club and us, black-whites offer unique opportunities like meeting a player personally, and they are already aiming for more, launching new tranches of fan tokens ahead of their Euroleague matches as they are back to the main European basketball competition. Speaking about Partizan, I can also mention their perfect start with the fan app – they launched it in April and already have more than 10,000 downloads.
Sounds exciting, and what about the new partners of Blocksport? You mentioned that Blocksport signed a partnership with the first federations and league. Could you tell us more about it? 
Of course, I am thrilled to announce our partnerships with Bulgarian Football Union and EFBET Liga, the top football league in Bulgaria. It is a significant step for both sides as BFU will receive a branded fan app soon and launch its token. We also continue to grow in the African market. This month we will announce two big players – the rugby federation, which is likely to play at the World Cup and one of the biggest football clubs in Africa with 2 million followers on Twitter only. So we continue to grow and bring our digital ecosystem to the best sports entities. 
What are the plans for this autumn for Blocksport? What are the main goals and challenges? 
As we have launched a few new products, we aim to spread the word about Blocksport worldwide. We will attend three major events in blockchain and sports business this autumn. We will start with CV Summit next week in Zug and continue in Monaco at the SPORTEL conference with the presence of our COO Samir Ceric and me. Also, with a presentation on the 25th of October and finish in Tel Aviv, where two of us will take the main stage and participate in a panel at Sports Tech Nation.
Regarding the product, we will launch the fan apps this autumn for Dynamo Kyiv, BFU, and our new partners from South Africa. We will also release a new version of our platform Blocksport 2.0 to improve the web experience and introduce new features. Regarding the fan token launches – more are coming soon. So stay tuned, and let's make great things happen!