Official fan application
Unite your fans in one space!
Fan app is a part of our blockchain ecosystem. Identify your fans, attract brands and partners and open up new revenue streams!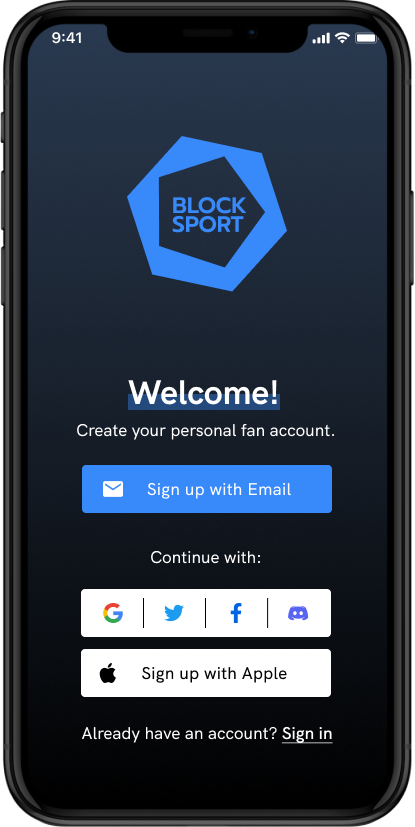 ENGAGE - IDENTIFY - EARN!
APP IN 30 DAYS
We offer a unique SaaS model where you pay monthly for using of your branded and white-label app. You don't pay for the development, only when you use the fan app, so it doesn't require heavy investment from you.
All features inside
Social media wall, ticketing, merchandise store, fan chats, predictions and all the stuff you need to entertain your fans is here inside the app. Keep your fan base in one place!
Monetization
Sales, advertising campaigns for your partners, attracting new sponsors, premium digital subscription - our app is designed to bring additional revenue to sports organizations!
now how much you can earn with the official fan app and how to use it as it's best for you now!
ENGAGE - IDENTIFY - EARN!
Engage your fans
with polls, trivia, chats, fan missions and fan rating, predictions tournaments and other gamification features
Collect the data
of your fans with fan missions: emails, telephone numbers, location and all the data you can use for marketing
Launch your own segmented and targeted marketing campaigns
and offer such campaigns to your sponsors and partners as you will
have a segmented and engaged audience for monetization
APP USERS ARE VALUABLE — HERE IS WHY
no Email address
no Phone number
no Personal data
no Personal engagement
Email address
Phone number
Personal data
Personal engagement
Targeted campaigns
Segmentation
YOUR ROADMAP TO START EARNING
App development 30 days
Implementation of marketing strategy for the app
Collecting data of fan base
Arranging marketing campaigns and sales for club and partners